Ensuring your tyres are safe for driving all the time
Not only are our mechanics specialists in repairing car batteries, but we also provide car tyre repair and tyre patching services as a breakdown service for road users facing a punctured car tyre. Wherever you're in Singapore, with just an easy call, we'll be down to assist you.
One of the problems every car owner faces is getting a punctured tyre every once in a while. The problem with a car tyre puncture is that it can happen anytime, anywhere, and when you're ready to repair a car tyre or replace your tyre, it won't wait until the perfect time. So, if you notice a punctured car tyre when you're at home, you're not supposed to drive it anywhere as it could damage the sidewall of your tyre, and may result in more money being spent on replacing a new tyre.
Our repair service for car tyres is designed to make it easier for you to fix your tyre without even leaving your house. If you need to hire our tyre service, please contact us. Our mechanics will be immediately notified and dispatched to your location with all the necessary tools and equipment as soon as we receive your call. In fact, we will patch your existing car tyre, and fix your spare car tyre, in a matter of minutes, if your current tyre is beyond repair.
Tyre Replacement and Repair Services
When you need your tyres fixed, you can never tell. A flat or punctured tyre can cause a lot of stress when you're on the road. It can not only leave you stranded on the roadside, but it could also potentially mean waiting for somebody to come out and fix it for you for hours. Fortunately, anywhere, any day of the week, you can now call for repairs. By offering you a fast and reliable mobile tyre repair service, we take the stress out of puncture repair to get you back on the road as quickly and safely as possible. In Singapore, we offer fast and efficient services. Our experienced mechanics are trained expertly to ensure fast, effective repairs anywhere you need them.ing.
| REPAIR | REPLACEMENT |
| --- | --- |
| Tread Damage | Sidewall Damage |
| Punctures | Punctures larger than 6mm on tyre tread |
| Nail holes | Sidewall punctures |
| Cuts up to 6mm on the tyre tread | Tyres worn below the wear indicator bars located on tyre |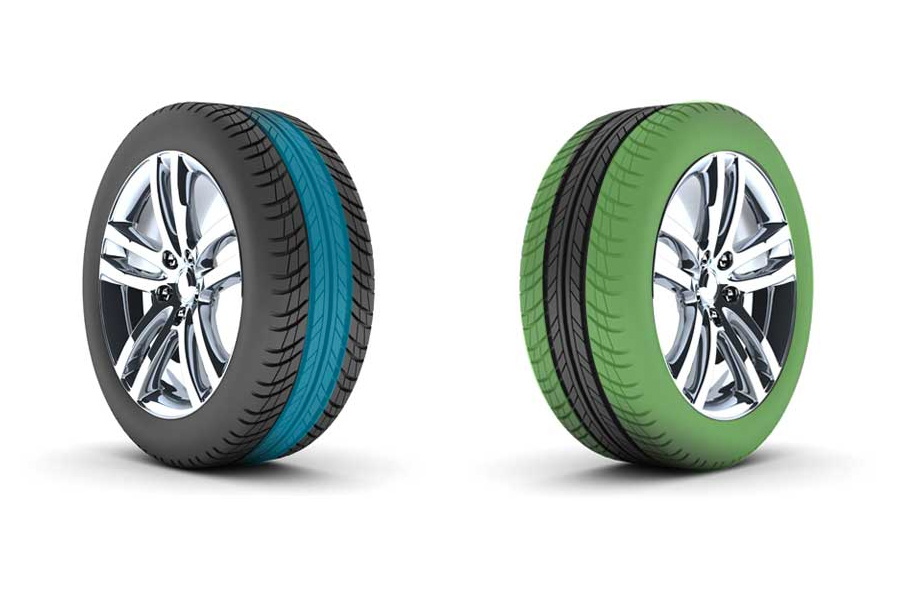 Punctured or Flat Tyre Replacement
If you're already on the road, the risk of getting a punctured tyre is even greater. It can even lead to an accident if you're not careful. A number of such incidents have occurred where the punctured tyre has resulted in the loss of life by testing fate with a damaged tyre, trying to reach a tyre repair shop.
It is a known fact that there are problems with vehicle tyres that cause a significant proportion of road accidents on roads worldwide. In any case, avoiding being a victim of such situations would ensure that you regularly check your car tyre condition and have it fixed on time. Stay safe and get proper repair service for car tyres.
Flat or punctured tires, often at the most inconvenient times, are never anticipated. That's why we are open seven days a week to provide repair services for car tyres. It means we can help you out even if you've got a punctured tyre during the weekend-a time when most other operators are open. Though for whatever reason, a tyre puncture repair is not enough, we will be happy to provide you with a replacement, right then and there. We stock the leading brands in the world, including tyres Kumho, Maxxis, Continental, and Pirelli. Rest assured that any replacement we fit will be as good as your last one, if not better.
24 Hours Emergency Tyre Services
We will provide you with our estimated time of arrival at your location upon engagement with us, as well as the respective price of the repair service for car tyres. With many years of experience, you can also be confident that our helpful mechanics can treat your vehicle with the highest level of professionalism. On arrival at your place, we will remove the damaged car wheel to test for the problem and after diagnosis, if your car tyre is considered safe, we will repair your punctured car tyre. If it is considered beyond patching, however, we will either replace it with it or loan you a spare tyre to the nearest repair shop for a tyre.
We will remount and install your wheel back onto your vehicle after patching your car tyre. Finally, by checking and setting the car tyre pressure to the specification of your vehicle, we will finish the fix process.
Professional Tyre Care
We're going to make sure that fitting tyres where your vehicle is currently parked are safe. If not, we're going to advise a new nearby location so we can get to work as soon as possible. And our technician must fit your tires, balancing your wheels. Our service vans for mobile tyres can work with wheels up to a diameter of 24 inches. We're going to check your tyres for irregular wear and inform you if you need an adjustment that can be done in any of our shops.
What Should You Do When Your Tyre Gets Punctured
Like sharp nails, glass shards and stones, we wouldn't know the small objects on the road. At the same time, you may want to keep your car tyres, so you won't find circumstances punctured by the car tyre.
So what if while you're driving, your car tyre punctured? Try to pull over as quickly as possible where you can safely stop and call for repair service for car tyre Puncture. When you ignore the warning you get from your tyre or continue driving long distances at high speed, you can make it worse and even damage your rim, which will cost you a fortune. Try to always put a spare tyre in your car so that the serviceman will still be able to replace the car tyre, even if the tyre is not repairable! For 24hrs car tyre repair or replacement service, you may want to contact us to avoid any inconvenience.